Riester RCS-100 Camera System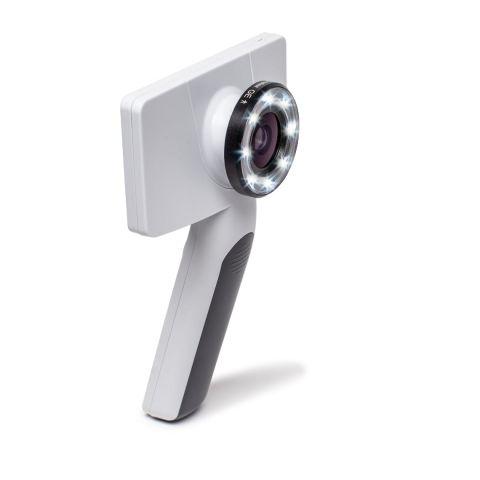 A lens for every need...
RCS-100 is a multi-functional, portable and versatile medical camera system that can be used with a choice of lenses and adapters to assess a patient's eyes, ears, nose, throat, skin and more.
It features adjustable brightness settings, along with manual and autofocus modes, allowing the clinician to capture top quality images and video.
The standard RCS-100 kit comes with the video otoscope, dematoscope, and general exam lens, however we can also supply it with only the lenses you need for your application. Endoscope adapters (both 4° and 9°) are available that allow standard C-mount style endoscopes for a variety of endoscopy applications.
The RCS-100 can be used either for live video calls, or for capturing images and video that can be uploaded to an EHR or shared with a physician for a consultation.
The RCS-100 has >10GB of internal storage for image and video capture, and includes annotation features so that patients information is annotated on each image, avoiding mix-ups when they are subsequently uploaded to an EHR after a visit.
---
Product Details
German precision engineering, with cutting edge medical technology, delivers a full featured medical camera system to improve monitoring, diagnoses and your ability to share imaging. The RCS-100 is a video otoscope, a digital dermatoscope, and general purpose examination camera in one.
Lens Options
General Lens
Otoscope Lens
Dermatoscope Lens
4° Endoscope Adapter
9° Endoscope Adapter
Features
Visible white LED delivers accurate color
Large 5" touchscreen with intuitive interface for easy image capture and management
Ergonomic, one hand design with easy to use rotary wheel
Power Supply: LI-Ion battery for untethered operation

Automatic (otoscope/general lens) & manual (all lenses) focus settings
Simple lens connections makes changing fast and easy via bayonet connector
Multi functional diagnosis designed for ENT, dermatology, endoscopy and general practice
RCS-100 user interface available in different languages: english, german, french, spanish, italian, russian, chinese, arabic)
Patient information automatically added to saved images via annotation features
Specs
5" full HD color TFT-LCD display 1,280 x 720 pixel including scratch proof cover LCD screen
8 MP CMOS delivers high resolution images
Resolution: Full HD true 3264 x 2448 Pixel
Photo Format: JPEG
Video Format: MP4(H.264)

Dimensions:
225 mm x 135 mm x 45 mm
(8.86 in x 5.31 in x 1.77 in)

Weight: 292.0 g / (10.3 oz)
Battery life: 3.5 hours(in video mode)
Charging time: 3 hours

2 Years Manufacturers Warranty
16 GB internal memory
Made in Germany
Power adapter incl. country plugs (EU, US, UK, Australia)
Micro USB 2.0, cable length min. 180cm
---
Image Gallery
Actual product images - Annotations can be disabled